"What I love about the work of therapeutic massage therapy is the mystery each client brings to the table. I combine the information provided by the client with what I observe and what the body tells me. I integrate a combination of massage modalities and energy work to facilitate the client's return to wellness with relief from stress and pain." - Betsy Arntzen, LMT, BCTMB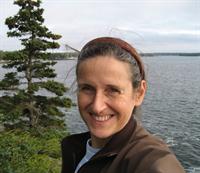 WERU Community Radio interview July 17, 2013
Betsy Arntzen is a licensed massage therapist, a professional member of Associated Bodywork and Massage Professionals, and is Board Certified (highest credential in the profession)
Betsy holds these certificates of completion:
Licensed Massage Therapist: Maine license MT#4493
Nationally Board Certified Practitioner: Certificate #601405-11
Second Level Reiki Degree
First Aid/CPR current certificate

Our mission is to promote healing and wellness by providing clients with effective therapeutic massage in a caring, professional environment. The process includes an initial interview, a setting of the goals for the session, a dialog to elicit in-the-minute feedback from the client during the massage as required, and these are followed by recording notes from each client's session. The needs, the privacy and the comfort of the client are our primary concerns.
Therapeutic Massage for Wellness draws on a variety of styles of massage and energy therapies which include: Swedish Massage, Deep Tissue, Reflexology, Reiki, and Shiatsu. During the massage we create an atmosphere to promote healing by using quality oils and lotions, appropriate scents, and soothing music or sounds of nature - or silence - as the client prefers.
"Betsy possesses a level of concentration and intuition which results in active listening, deep seeing, and focused intention."