Comfortable temperature-controlled studio.
Warm and cozy in winter. Cool and serene in summer.
Heated table.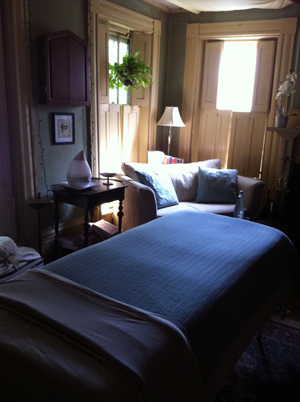 For Relief from Pain:
Therapeutic Massage - Your areas of complaint and pain are assessed and you receive effective firm pressure deep tissue techniques, to reduce and relieve muscle tension, adhesions and trigger points. This kind of massage focuses on releasing the tense muscles causing the pain, and results in reduced symptoms.

Sports Massage - A combination of deep tissue massage, stretching and compression techniques are used to improve your athletic performance, increase movement, and reduce the risk of injury. This kind of massage reduces muscle pain and joint soreness, increases flexibility, and speeds recovery from overworked muscles.

Massage to compliment Chiropractic Care - In a 30 to 60 minute session, specific muscles are relaxed and stretched to prepare and aid the body before or after chiropractic adjustments.
For Relief from Stress:
Relaxation Massage - Receive calming, restorative, mild to medium pressure Swedish Massage techniques while in repose on a comfortable warm table, in a serene studio. This kind of massage deactivates the sympathetic nervous system (flight or fight) and activates the parasympathetic nervous system (rest and digest).
For Rejuvenation:
Seated Chair Massage - Sit comfortably clothed in an ergonomically designed chair, and in 10-20 minutes your tense muscles will relax and you will feel rejuvenated. We specialize in therapeutic seated massage.

Reiki - Comfortably clothed, you sit or lie down to receive focused life force energy which results in relaxation and promotes healing. Reiki restores the equilibrium of mind and body.
Click for description of What a Reiki Treatment Is and Does
On-Site Massage (traveling from Studio to your location):
Worksite Wellness: Invite our ergonomic Massage Chair into your business for your hardworking employees or health-minded customers to receive rejuvenating Seated Massages at $1.00/minute. Studies prove that seated massage in the workplace increases employee productivity, decreases stress, and improves concentration and morale.

Seated Massage for Groups: We bring the ergonomic massage chair to provide soothing Swedish massages for your special event, celebration, group gatherings, or family event.
| Service/Product | Rate | |
| --- | --- | --- |
| Chair Massage | $20.00 | / 15 minutes |
| Couples Massage | $150.00 | / 60 minutes |
| Deep Tissue Massage | $60.00 | / 60 minutes |
| Neuro-Muscular Therapy | $60.00 | / 60 minutes |
| Reiki | $30.00 | / 30 minutes |
| Relaxation Massage | $60.00 | / 60 minutes |
| Sports Massage | $60.00 | / 60 minutes |
| Swedish Massage | $60.00 | / 60 minutes |
| Therapeutic Massage | $60.00 | / 60 minutes |